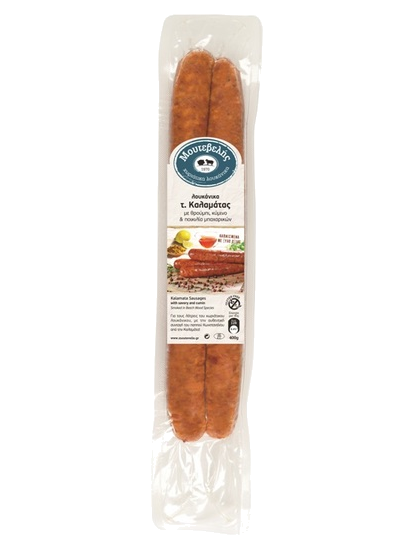 Kalamatas Sausages
Ideal for our friends, lovers of country sausage with a scent of orange. The Kalamata sausage with savory and cumin follows the traditional way of production. The pieces of pork meat and natural seasonings and spices are all kneaded with chosen red wine. Afterwards they mature and are filled in pork intestine and are smoked traditionally with timber of beech. A country sausage that you will, certainly, not be indifferent towards!
With savory, cumin and fine spices.
Παραδοσιακό κάπνισμα με ξύλο οξιάς.
Διαθρεπτική δήλωση ανά 100g:

Ενέργεια: 120Kcal/420Kj
Πρωτεϊνες: 20g
Υδατάνθρακας: 30g
Λιπαρά: 21.2g
Αλάτι: 2g
Εδώδιμες Ίνες: 0.5g