"a la ellinika" sausages with Greek feta cheese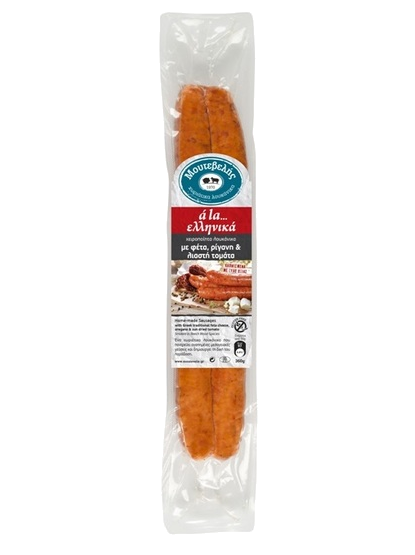 "a la ellinika" sausages with Greek feta cheese
Home-made sausages with Greek traditional feta cheese, oregano and sun dried tomato. Premium cuts of fresh pork meat, pure ingredients, natural herbs and spices. Smoked in beech wood species. A traditional sausage that
combines beloved Mediterranean flavors and makes its own success story.
Με Φέτα, ρίγανη και λιαστή τομάτα.
Παραδοσιακό κάπνισμα με ξύλο οξιάς.
Διαθρεπτική δήλωση ανά 100g:

Ενέργεια: 120Kcal/420Kj
Πρωτεϊνες: 20g
Υδατάνθρακας: 30g
Λιπαρά: 21.2g
Αλάτι: 2g
Εδώδιμες Ίνες: 0.5g